May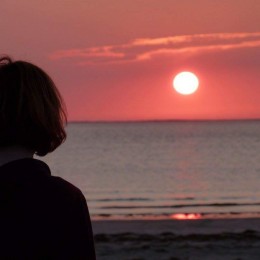 Hello!
My God, the weather! Hasn't it just been gorgeous? I finally got to swap my thermal leggings for the normal variety.
I hope you're well? I was on my holidays in Sligo for the last 2 weeks. I sometimes rent a cottage and head off with the piano for some concentrated sea-air-fuelled work. It went well.. enough.. I got a good 20% of what I planned to do done. Not bad! The amount of daydreaming I do though.. disaster! And driving. I just drove and drove. So many incredibly lovely places to take a spin to. Christ though, you have to be a bit careful driving aimlessly around that neck of the woods. Those roads whose signs start with the letter 'L'.. (i.e. L17221)
I suppose the 'L' means 'Local road', but I came to think upon them more as the 'Leave the road you're on on the peril of your life' roads. One of them just plain turned into the sea on me (the road to Coney Island, when the tide was in).
I went up to Donegal too. Across those spectacular mountains to Ardara and Portnoo (that's where the photo above was taken*). And then home to da shtix. Tis all the shtix, I suppose, but by home, I mean Leitrim.
I had a lovely quiet time in Leitrim. I didn't realise it, but Mars was really near and bright while I was there – it still is, I think. Have a look: it's a kind of twinkly yellow-orange-red colour. Beautiful. You can see its position here in this video, to help you locate it (accompanied by some nice Vivaldi music, which sounds hilarious).
Speaking of videos, thanks a million too for all your support for my new one for "I Will Count My Blessings". The comments and feedback have been really touching, and very much appreciated.
The album's coming along grand too: I've settled on " West to the Evening Sun" as the title. It's actually an abridged title though. The full one is "West to the Evening Sun where the Local Roads May or May Not Scare the Living Daylights Out of You". But it won't fit on the cover, they said. Late September is the due date! And I'll be doing some preview gigs before that too. I'll keep you posted.
Last thing: if you're into brain science stuff, I came across, and really enjoyed, this All in the Mind series while I was away. There's a great one about a scientist who suffered brain injury after concussion, and got deadly-sounding, cutting-edge, neuro-optics help to recover (cool new glasses) – The Ghost in my Brain. It's a really good series.
And if you're into dogs chasing balloons, well, let it not be said that I'm not catering to your needs too: Dog Chasing Balloon.
I hope you enjoy the rest of the sun. And don't forget to put Mars in the diary, if you can,
With ya every starry step,
Ailie xxx
* photo by Claire O'Donnell.
**directed by Irish filmmaker, Alan Markey.