New year, and some new ways to stay sane (*maybe)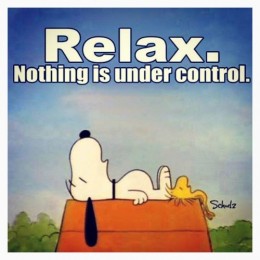 Happy New Year!
Well? Tell me everything. Did you have a nice Christmas?
I'm just back in Dublin after a break at home in Carrick. It's freeeezin' here! The heat is on full throttle and I'm firing cups of tea into myself.
January is D-month for me, so I'm back in the office (sittingroom) getting 'West to the Evening Sun' (the title track and first single from the album) ready for release. Some of the work is practical, like finishing the video, and some of it is more.. mental-health-related.
Do you know the episode of Father Ted where Sr Assumpta wakes them up in the middle of the night for their Lenten torture? Well, I've been waking up over the past few weeks feeling not unlike that – the t-shirt I'm wearing, too short to pull down over the trousers that I forgot to put on before leaving the house for the event in the middle of the big place with the big crowd that I CAN'T GET AWAY FROM. You know the one!
I'm a bit nervous!
I used to get really nervous. I remember praying fervently the night before my first Leaving Cert exam, to die peacefully in my sleep. I had a stomach full of dread, and I knew that, short of being run over by a benevolent bus in the morning, this was my last hope. I prayed like mad.. Hail Marys.. Our Fathers.. The Creed..
It didn't work, but what it did help me see, was that I could afford to trust myself to have my own back a bit more: the morning was fine.. the exams were fine.. it was all fine. It was frightening to me though, the ease and speed with which you could find yourself in deep distress.
Which made me prick my ears up at this: I came across a list of Apps that seem to be showing promise in helping people identify and treat factors linked to anxiety, depression, and generalised feelings of not-quite-rightness. The idea is that they will help you alert yourself to things such as social isolation, problems with sleeping, too little activity, obsessive thinking, etc… with a view to lowering the risk of you heading down that slippery-slopery slope. It struck me that these might be particularly good for people in their teens/early 20s. See below for the link*
The way I try to deal with nerves now is to weigh up what's worth worrying about and what's not. Here's a list of some of my foremost concerns right now at this minute (Thursday Jan 5th). See what you think.
In no particular order:
– Parents, relations, friends and everyone dying [ongoing]
– My last tweet
– Developing post-natal depression if I have children
– Promoting the album
– Finding a long-term job (outside of music, ideally in psychology) that pays enough to live comfortably
– My gums receding
What do you think? Is it time for me to download a few new apps? I wonder is there one specific to receding-gum stress?
If you've tried any of the apps in the link below, let me know. I'd love to know if they're any good.
In the meantime, look after yourself well, and stand by for the new single!
Ailie xx
________________________________
* List of apps (scroll about half way down)**
** I very much recommend face-to-face counselling too, if you were ever wondering about going. The thing that I really like about it is how accepted you feel as soon as you walk in the door. It feels like starting a marathon at mile 25 or something. Here's a directory of counsellors in Ireland